Postcard Printing
Available in any size up to jumbo
Environmentally friendly, FSC Certified card stock
Printed with soy and vegetable inks
Printed using 4-color process or PMS spot colors
Gloss lamination available for extra durability
Send us your mailing list. We'll make certain your postcards arrive looking as good as they did right off the press. Our top-of-the-line mailing software ensures your lists are current and acceptable to current U.S. Postal Service requirements. (Read more about our Mailing services.)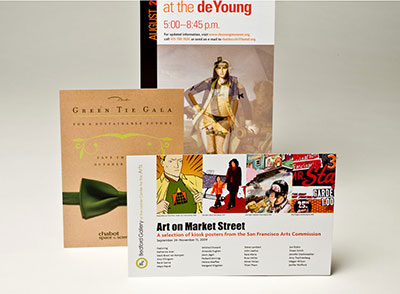 Eco-Friendly Postcard Printing
PrintingGreen.com
If your Postcard files are ready for press, order now from our Print On Demand site. It's the fast, simple and money saving option!

Bacchus Press
If your project is more complex - submit a request for a estimate. A print consultant will contact you with a quote.


| | |
| --- | --- |
| | |
Making your Postcard as enticing as a tropical getaway

By Winn Apple | Published May, 2013

Postcards have found a soft spot in the hearts of many. We receive postcards from friends and loved ones who have departed for sandy beaches and faraway places – reminding us that they are having fun whilst we sit in our cubicle.

There are racks and racks of postcards designed to entertain and amuse – and their offspring, the marketing post card, is no less effective at enlisting a reaction.

What inspires someone to snag a postcard from a Cracker Barrel wire rack is not so different than the triggers from a postcard soliciting business. Both postcards deliver the intended message to the recipient – creating an impression, conjuring a mood and possibly encouraging action such as, "I need a vacation!"

When designing and printing a postcard for a marketing campaign, consider what scenario you are crafting for your recipient. Whether it be sipping a frosty Pina Colada at a far away resort, or insuring them that your product and service will make them feel relaxed and at ease with your expertise, or dangling your "you gotta have it sale" causing them to whiz through traffic to get to your store – your postcard can do exactly that, if designed smartly, printed beautifully and targeted to the right audience.

What makes a standout postcard?

Just like those tantalizing postcards you find on vacation, an attention grabbing image is the first thing to consider. This is what will have your audience take pause when they riffle through their mail. If they don't know about your business, your postcard better catch them quick or else suffer the fate of junk mail.

What is so irresistible about what you're selling? How's it gonna make their day totally awesome? Your product or service ultimately solves some problem – even if it is a new outfit for a blind date.

Problem – I wanna look smoking hot, but I'm short on cash.

Solution - 50-70% off smoking hot designer cloths!

Your postcard delivered to the right person at the right time with the right incentive equals a new customer.

We also offer on-line Postcard printing. If your postcard files are ready to send to press – visit our on-line eco-friendly printing site, PrintingGreen.com. Send your postcard to press instantly.