Calendar Printing
Print any size
Magnetic and Eco-friendly stock
Self-cover (same paper weight as interior pages)
Soy and vegetable inks
Printed using 4-color process or PMS spot colors
Stitched, Wire-O-bound, and Velo-binding
Send us your distribution or mailing list, and we will package and send these per your exact specifications; individually packed or mailed in bulk, we'll get these to your recipients in the timeframe required.
We can warehouse your calendars in our facility for future use at no extra charge. (Read more about our Mailing and Warehousing services.)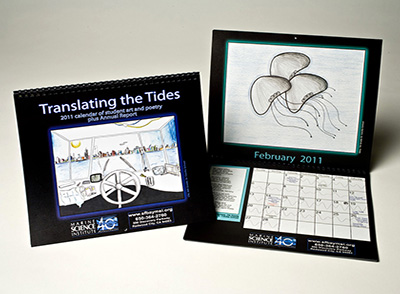 Eco-Friendly Calendar Printing
PrintingGreen.com
If your Calendar files are ready for press, order now from our Print On Demand site. It's the fast, simple and money saving option!

Bacchus Press
If your project is more complex - submit a request for a estimate. A print consultant will contact you with a quote.


| | |
| --- | --- |
| | |
6 Ways to use Calendars for Promoting your Business or Event

By Jennifer Stanley | Published May 1st, 2013

The advent of the internet changed the face of business irrevocably. It was no longer necessary to fly across the world for business meetings, as tools such as Skype made the process of professional networking both quick and cheap, and traditional hard copy utilities such as business cards and letterheads were replaced by email signatures and LinkedIn. Yet despite this progression, there are some useful promotional tricks which simply cannot be replaced by any amount of digital know-how. A primary example of this is the simple, yet effective, calendar.

Charity Calendars

Calendars are an ideal way of raising money for charity – they are cost effective, easily customized and, most importantly, long term marketing tools. Prolonging the exposure of the brand is key here, as your calendar will spend a full twelve months subtly pushing for donations. Making sure that the charity's logo is in a prominent position on each of the twelve pages will help further spread the reach of the cause.

Desirable Designing

If your business plays any role in the creative industries, your promotional calendar can actively showcase the standard of work on offer to prospective clients. Unlike a brochure, which can easily be thrown away without a second thought, a calendar is useful for both the workplace and home and is thus more likely to be kept. Furthermore, if your client chooses to display it in a prominent spot in their workplace, high quality, well printed calendars can be an endorsement in itself.

Promotional Placements

When planning for the year ahead, a retail business could print a calendar to showcase inventive promotions and sales. As well as being a cheap method of attracting consumers, money off vouchers can be incorporated into the design of the calendar in the months promotions are running. Perhaps thinking outside the box and including cut-out coupons on the page which usually contains a photograph or picture would attract the attention of your customers and competitors alike.

And best of all? Your customers won't even need to mark the date in their calendar – it's already there!

We also offer on-line booklet printing. If your calendar files are ready to send to press – visit our on-line eco-friendly printing site, PrintingGreen.com. Send your calendar to press instantly.