Business Card Printing
Environmentally friendly, FSC Certified card stock
Printed with soy and vegetable inks
Printed using 4-color process or PMS spot colors
Gloss lamination available for extra durability
Customization includes rounding corners, two-sided printing, horizontal and vertical printing, foiling and embossing, and more.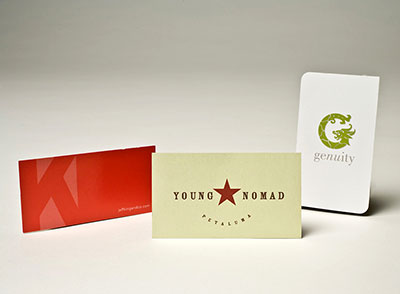 Eco-Friendly Business Card Printing
PrintingGreen.com
If your Business Card files are ready for press, order now from our Print On Demand site. It's the fast, simple and money saving option!

Bacchus Press
If your project is more complex - requires special di-cut, foil, emboss or PMS colors - submit a request for a estimate. A print consultant will contact you with a quote.


| | |
| --- | --- |
| | |
Business Cards...what not to do.

By Winn Apple | Published April 23, 2013

A business card can give you the most bang for your marketing buck, but they can also work against you if it is poorly crafted.

Obviously the design of your business card is number one on the list. If you aren't a graphic designer and you are attempting to create your own business card, just keep it simple. I've seen some real wild looking carnivals on a card. Someone may hang onto your business card simply because it is outrageous – that doesn't mean they send business your way.

Another thing that can set you back is cheap card stock. A flimsy business card is like a damp handshake – you just want to toss it off. If you go with a business card printer who cuts corners, you'll pay the price in the end. No amount of design can fix a cheap business card.

Random lines in the print job are a bummer. If you have a quality printer, they are not sending out poorly printed business cards. They want you coming back. And if you paid just a weee bit more than you did with the shoddy printer, isn't a couple of clams worth it?

If you have images with a low resolution, a cheap printer is not going to bother notifying you. Nope. They will just go ahead and print your sad little business card, fuzzy images and all. If your printer is worth a hill of beans, they will give you the heads up.

Please, please if nothing else, don't turn your card into something only a private investigator can decipher. Let folks know what the heck you are selling. They aren't gonna remember getting your business card. If they can't figure out what your business is in a matter of second, they will toss it out and hit up google for the top ten list of other providers.

Oh, and geeze, can you please make the font large enough. I don't care how super cool your contact information looks at 4 points. We don't want to enlist the help of a magnifying glass. Infact, your audience won't suffer small print – they will toss your hip little card into the recycling bin….or worse, the trash. They may not be as eco-friendly as you!

We also offer on-line business card printing. If your business card files are ready to send to press – visit our on-line eco-friendly printing site, PrintingGreen.com. Send your business card to press instantly.