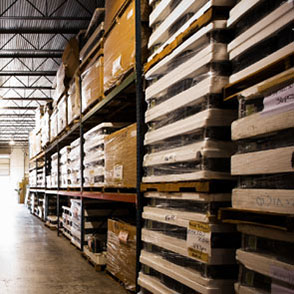 Our online ordering system allows you and your colleagues to place orders at any time from any location. Our online tracking system alerts you to shipping updates and tracking numbers. We use all major local and long distance carriers such as FedEx, FedEx Ground, UPS, and so on.


Fulfillment & Distribution
Why not have Bacchus Press print and fulfill your orders?
Not only will this save you time, but resources as well. No need to print shorter runs of marketing materials and pay a higher cost per piece. Print in bulk and Bacchus Press will do the rest.
Often times, companies have multiple pieces that require assembly and special packaging – even rolling up a poster, inserting it into a tube and labeling it for proper shipping is a time consuming process.
If your fulfillment has multiple pieces – even those which we did not print – no problem. We can assemble and pack all necessary printed and non-printed pieces.
Contact Bacchus Press for a quote on printing and fulfilling for your project.
As your one-stop-shop printer, we handle all of your distribution needs, from collating and assembling multiple materials to following specified packaging requirements to shipping orders to multiple addresses.
We print on demand or store your inventory in our secured, fireproofed warehouse. Our sophisticated software maintains inventory control, so we always know exactly what you have at any moment and are able to alert you when your inventory runs low.
Whether you have a large order which needs to be delivered, or small orders which need to be shipped on a regular basis, Bacchus Press can customize our Distribution service to meet your needs.
Find out how we can help you on your project, call us at 510.420.5800 or use our consultation form.
| | |
| --- | --- |
| | |