Booklet Printing
Saddle-Stitched Booklets (Stapled) or Wire-O Binding Booklets
Gloss or Lamination Option available for added durability
Self-cover Booklets (same paper weight as interior pages)
Plus-cover Booklets (heavier paper weight as interior pages)
Booklets Printed using 4-color process or PMS spot colors
Available in a wide range of environmentally friendly, FSC Certified papers
Printed with soy and vegetable inks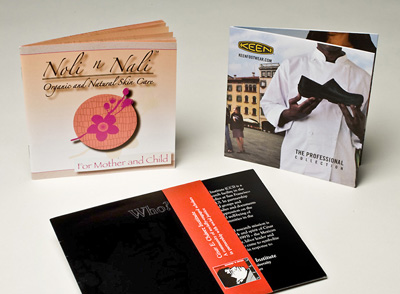 Eco-Friendly Booklet Printing
PrintingGreen.com
If your Booklet files are ready for press, order now from our Print On Demand site. It's the fast, simple and money saving option!

Bacchus Press
If your project is more complex - submit a request for a estimate. A print consultant will contact you with a quote.


| | |
| --- | --- |
| | |
Professionally Printed Booklets Reflect Core Values


By Jennifer Stanley | Published April 11, 2013

Whether you are a small business looking to establish a client base, or a larger company, ready to distribute material to existing customers, Bacchus Press can offer a service which takes ready prepared material directly to print. We also offer a consultation service to establish exactly what your business needs and give a quotation to deliver the service you require.

Eco-friendly booklets printed by us give businesses a compact, high quality product to hand to prospective and existing clients. Booklets represent your business, and, as such, the paper, quality of print, color, definition and overall appearance need to be excellent.

We offer a choice of recycled papers, all responsibly resourced, and our clients can specify exactly how booklets are to be finished, including options for booklet binding, decide whether to opt for a glossy or laminated finish (to add to durability), or whether they would like the booklet cover in a thicker paper or would prefer a consistent weight throughout. The choices of booklet finish available give a lot of additional scope to express the image clients want to convey to their customers; details such as an embossed cover or perfect bound give a more tactile dimension to a booklet, and are small details which can invoke an aura of luxury.

We also offer on-line booklet printing. If your booklet files are ready to send to press – visit our on-line eco-friendly printing site, PrintingGreen.com. Send your booklet to press instantly.