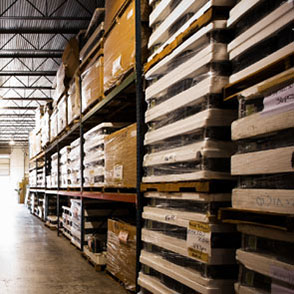 Our online ordering system allows you and your colleagues to place orders at any time from any location. Our online tracking system alerts you to shipping updates and tracking numbers. We use all major local and long distance carriers such as FedEx, FedEx Ground, UPS, and so on.


Warehousing / Inventory Control
Bacchus Press can print and store your business collateral and marketing material for quick ordering and distribution.
Whether you take advantage of our Online Collateral Fulfillment – with 24 hour access to ordering - or simply notify Bacchus Press when you'd like to place an order from your stored inventory, we can customize your service.
Because printing becomes more cost effective when you order in larger quantities, the advantage to placing large printing orders and storing inventory with Bacchus Press, is that you not only save time for print turn around, but you save money.
If your company has multiple locations and you print business collateral often, consider printing larger quantities of all you brochures, marketing posters, sell sheets, letterhead and envelopes, folders – even specialty items like tab separators for business binders – any printing that you order often.
Bacchus Press will produce a monthly inventory report updating you on your printing inventory levels. We will also notify you when your inventory is running low in the event that you would like to reprint.
Find out how we can help you on your project, call us at 510.420.5800 or use our consultation form.
| | |
| --- | --- |
| | |