Presentation Folder Printing
Standard or custom die-cut
3- inch, 4-inch pockets or customize size
Environmentally friendly, FSC Certified stock
Various finishes, Aqueous coatings and Varnishes available
Printed using 4-color process or PMS spot colors
Printed with soy and vegetable inks
We offer finishing such as embossing and metallic foil stamping for the sophisticated look you want to project.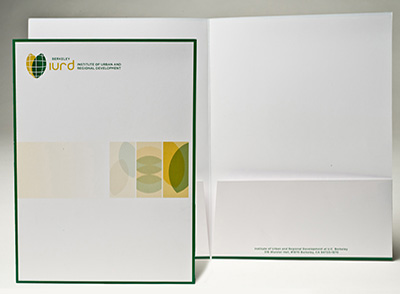 Eco-friendly Presentation Folder Printing
Boost your corporate identity or product image with elegant and eye catching presentation folders.
Find out how we can help you on your project, call us at 510.420.5800 or use our consultation form.
| | |
| --- | --- |
| | |
Printing Presentation Folders Can Be Tricky

By Winn Apple | Published May, 2013

Presentation folders seem like a simple and straight forward product, but there are quite a few things that go into producing these printed folders.

If your company invests time and resources into developing the collateral material, you'll want a quality printer that can handle the many aspects to printing and producing brochures, letterhead, business cards, booklets and presentation folders.

Many presentation folders have a double crease fold which allows the folders to hold a thicker amount of company collateral without losing its shape or bulging. Attention to these types of details will make all the difference in a professional looking pack.

You'll want your presentation folders to match the other parts of your collateral package – so shop around for a knowledgeable printer.

Often, company logos have specialty colors requiring the use of PMS – or – spot colors. In order to achieve this, your printer will need to offer off-set printing.

Pocket folders have a few additional variables to consider. Whether you require a single pocket presentation folder or a double pocket presentation folder, you'll want to consider the amount of material it will need to hold.

Most printers can handle the standard straight pocket folder. But your design may require di-cut services for the pockets of your folder. If the pockets have any sort of curve, you'll need to research printers who offer di-cut services.

You'll need to consider if you'd like your folder to hold your business card. A slotted pocket will need to be included.

Keep the outside of your presentation folder sharp. Don't cover it with information. Your logo or replication of the pattern on your marketing material is a clean presentation. The information is inside. No need to bombard the reader – but certainly make it look interesting. A blank folder won't prompt much attention.

Make sure that you select a sturdy paper stock. The presentation will travel and undergo a fair amount of handling. You'll want a strong paper stock to withstand. Depending on the image your company has cultivated, you'll choose between a matte or gloss finish.

We also offer on-line printing for your other collateral material. If your files are ready to send to press – visit our on-line eco-friendly printing site, PrintingGreen.com. Send your files to press instantly.