Business Identity Printing
Custom stationary
Business cards
Notepads
Thank you cards
Presentation folders
Labels
We offer a wide variety of environmentally friendly paper and card stock, printed with soy and vegetable inks, using 4-color process or PMS spot colors. Consult with our sales staff on the vast selection of paper colors, weights, and finishes, and create a look that is simple or complex.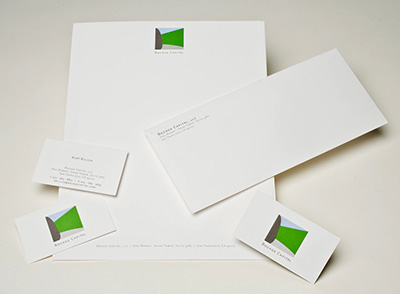 Business Identity Package Printing
Make an impression with your clients by working exclusively with an eco-friendly printer when printing your custom collateral. We work closely with you to ensure that your finished product is represents your company beautifully.
Find out how we can help you on your project, call us at 510.420.5800 or use our consultation form.
| | |
| --- | --- |
| | |
What is a Business Identity package?

By Winn Apple | Published May, 2013

In addition to offering great service and products, your business succeeds or fails by the image you put forth. It is your image that helps to bring in new clients.

Before a client contacts you, they have formed an opinion. Often, what they see first is some portion of your collateral material – possibly a brochure or business card.

Once you have formed a relationship, whether it be as client or potential client, you'll want to manage that relationship with impeccability.

A beautifully printed Business identity package is an investment that will pay off over time.

There are a number of reasons why you may need to be in written correspondence with your client on a regular basis.

Let's say you want to follow up with connections you made at a Business event or tradeshow – Business greeting cards would have far more an impact than a simple piece of paper with your business card chucked into the envelop.

If you are following up with a request for more information about your company and services, you don't want to shove you brochure, letter and supporting information into a envelope. Sliding everything into a professionally printed presentation folder will encourage your audience to hang onto your pack as well making it simple for them to store.

Printing a Business Identity package would encompass those items as well as business labels, note pads and business cards.

When you are ready to print, make sure you find a printer who offers both digital and off-set printing services. It is possible that your logo will need to be printed on an off-set printer which uses PMS colors. This allows the printer to match exactly the colors of your company. This isn't always possible on a digital press.

You will also want to print Business identity packages with a single printer. The color and results can vary when working with multiple printers – which is sometimes the case for a business who is trying to shave a few dollars from the total. You will have an inconsistent pack which will not have the impact you hoped.

When investing in your identity pack, consider printing with a certified green printer who offers superior quality recycled paper stock. Eco-friendly printing is competitively priced.

We also offer on-line printing for most products. If your files are ready to send to press – visit our on-line eco-friendly printing site, PrintingGreen.com. Send your files to press instantly.