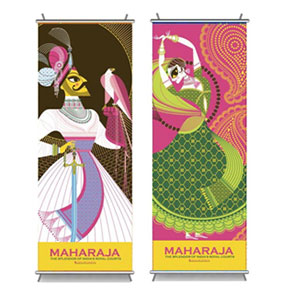 Banner Printing
Banners are ideal for indoor and outdoor displays and set up quickly — perfect for event and business marketing.

Choose from 4 different eco-friendly media choices
Sizes from 1 x 1 foot up to 5 x 15 feet
All substrates are tear-resistant
Grommets are free
Stands are available
All banners are recyclable via HP's media take-back program.
| | |
| --- | --- |
| | |
What to consider when printing a Banner

By Winn Apple | Published May, 2013

Banners are an absolute must for trade shows or any type of an event where you plan to generate business. Whether you are printing a Banner with a stand, or a hanging Banner with grommets, you'll need large signage to grab the attention of attendees.

What are some of the considerations you should keep in mind while designing your eco-friendly banner?

Traffic – it is important to consider how much foot traffic will be at an event. Your Banner size will be somewhat dictated by the sheer volume of people moving around your event booth or table. You will not only want to display your Banner high enough to be seen above the crowd, but the size of the Banner will need to be appropriate. Don't print a banner the size of Texas for one hundred attendees.

Distance – at what distance will an audience view your Banner? If you are participating in a high volume event, you'll need to assume that your Banner will be view across the aisle and over numerous heads in addition to foot traffic cruising past only a view inches away.

It is ideal to print Banners that addresses both – a large hanging Banner for the back wall of the booth and a Banner with a stand near the opening of your booth.

Speed – how fast is your target moving when the approach your Banner. Well, if it is an event they may be weaving between foot traffic and moving slowly, but also distracted. If you printed an outdoor Banner for your business, your audience may be strolling leisurely past or driving at top speed.

Why is speed important? Well, if they are moving at a fast clip or through heavy foot traffic, you'll want to make sure that the information on your Banner is the absolute minimum, clean, clear and to the point. You'll need to get the information out quickly and grab their attention. They should snag enough information to look you up later.

We also offer on-line Banner printing. If your business card files are ready to send to press – visit our on-line eco-friendly printing site, PrintingGreen.com. Send your Banner to press instantly.