Label Printing
Eco-friendly papers and label stock
Printed with soy or vegetable inks
Printed using 4-color process or PMS spot colors
Special finishing such as die-cutting, foil, and embossing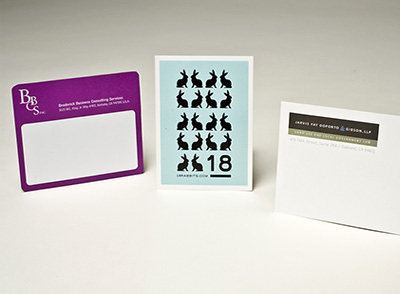 Eco-Friendly Label Printing
PrintingGreen.com
If your Label files are ready for press, order now from our Green Printing On Demand site. It's the fast, simple and money saving option!

Bacchus Press
If your custom brochure printing is more complex, submit a request for a estimate. A print consultant will contact you with a quote.


| | |
| --- | --- |
| | |
Labels are for more than shipping!

By Winn Apple | Published May, 2013

Likely, the first thing that comes to mind with the mention of printing labels is a box of labels for shipping you send through your personal printer.

But labels are so much more. A beautifully printed label is that extra touch on your product, package or envelop that creates an impeccable presentation that consumers are drawn to.

If you are in search of a printer for your company collateral, you'll likely want a printer who has both off-set and digital capabilities. If your company logo has very exact colors to match, you'll need off-set printing services to produce the exact color.

When printing your labels, it is important that they match your letterhead and other collateral. The logo on all your printed material should be consistent. You may need to mail out a brochure, catalog or quarterly report. A cohesive package makes a difference.

Beyond your typical business shipping labels, we venture into printing product labels. Everyone's favorite – the wine label – is just one of the sticky varieties. Many labels that are used for edibles need to be printed with a qualified printer, certified to print specifically for ingested products.

If you are in the market for printed labels to hang or dangle from your product packaging then most profession printers can handle the job. That doesn't mean that any ole printer can print a quality label.

What capabilities will your printed label require?

Is the shape standard or are there curves and shapes out of the ordinary requiring di-cut services? If so, make sure you shop around. Di-cut services can rack up the cost. If you are investing in quality printed labels with specialty services, you don't want to receive a poorly crafted product.

When designing your label, what should you keep in mind?

We also offer on-line label printing. If your label files are ready to send to press – visit our on-line eco-friendly printing site, PrintingGreen.com. Send your labels to press instantly.