Newsletter Printing
Any format and any size up to tabloid
Custom packaging, like inserts, available
Eco-friendly papers and label stock
Printed with soy or vegetable inks
Printed using 4-color process or PMS spot colors
Our in-house mailing services enable us to fulfill your mailing from print to mail, ensuring your lists are current and acceptable to current U.S. Postal Service and delivered looking as good as they did right off the press. (Read more about our Mailing services.)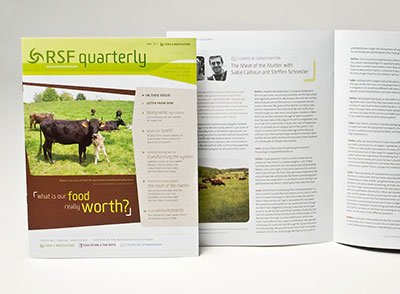 Eco-Friendly Newsletter Printing
PrintingGreen.com
If your Newsletter files are ready for press, order now from our Green Printing On Demand site. It's the fast, simple and money saving option!

Bacchus Press
If your custom brochure printing is more complex, submit a request for a estimate. A print consultant will contact you with a quote.


| | |
| --- | --- |
| | |
Building a Great Printed Newsletter – Builds Client Loyalty

By Winn Apple | Published May, 2013

Printing and mailing newsletters on a regular basis is a solid investment and yield greater return that the electronic version. Emails have turned into more of a nuisance than a service to clients and often time your hard work with never see the light of day.

Printed Newsletters can be approached a number of ways depending on what relationship you are attempting to build with your reader and the image you have cultivated over time – or – are in the process of cultivating.

While considering the intention of your newsletter and the image you are cultivating, include printing with a certified green printer in the equation. Printing newsletters on recycled paper builds trust. Your readers will appreciate your efforts in reducing your impact on nature.

With your current client base, a newsletter is a great way to stay connected and continue to assure them of the value you provide, whether it be through products you offer, information you deliver or service you render.

Utilizing a printed newsletter to update your readers is a marketing investment that will deliver something tangible to your audience.

Your newsletter is a service to your reader – not an opportunity for you to sell something, though the result will lead to sales if done properly.

You'll want to approach the content of your newsletter as though speaking to a friend in most cases - cultivating a warm and trusted relationship. Even if your newsletter is for an audience who looks to you for more serious information, incorporating a familiar tone will connect more readily.

A warm approach will not only serve to keep your clients loyal, but introduce new, potential clients in a welcoming way.

If you have new product or services, absolutely highlight those in your newsletter. You can suggest alternative uses for the products you currently carry as well. But be careful not to use the news letter as a hard sell. This should feel like a service to your reader – not a sales pitch.

In addition to informing your reader of new services or product that may be helpful, you'll want to mention any awards or notable recognition you've received. This serves to instill trust. Even quoting praise from other clients is beneficial – in particular notable clients.

Clients like to know they are doing business with an industry leader.

We also offer on-line Newsletter printing. If your Newsletter files are ready to send to press – visit our on-line eco-friendly printing site, PrintingGreen.com. Send your Newsletter to press instantly.