Brochure Printing
Environmentally friendly Brochure Printing, FSC Certified papers
Various finishes, Aqueous coatings and Varnishes available
Color Brochure Printing using 4-color process or PMS spot colors
Perforations and scoring options are available
Printed with soy and vegetable inks
Our folding machines give you multiple choices for final presentation: Accordion-Fold, Gate-Fold, Half-Fold, Roll-Fold and Tri-Fold Brochure Printing.
Send us your mailing list, and we will ensure your booklets get to your recipients in the time frame required. (Read more about our Mailing services.)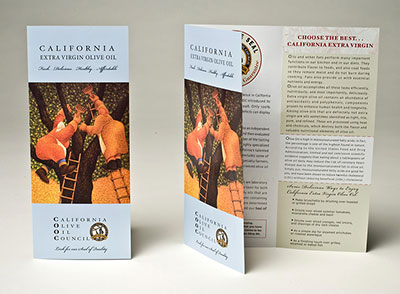 Eco-Friendly Brochure Printing
PrintingGreen.com
If your Brochure files are ready for press, order now from our Green Printing On Demand site. It's the fast, simple and money saving option!

Bacchus Press
If your custom brochure printing is more complex, submit a request for a estimate. A print consultant will contact you with a quote.


| | |
| --- | --- |
| | |
What Makes our Brochures Stand Out?
By Jennifer Stanley | Published April 17, 2013

Marketing brochures are a tangible product, and it is often the little details which make all the difference. We offer a printing consultation service at outset of the brochure printing process, and having some insight into our customer's business, what their goals are and what matters most to them helps us shape our eco-friendly products and tailor our printing services to meet their specific needs. Aspects such as embossed recycled paper, foiled finish or rounded corners make a lot of difference to the overall finish of our printing products. Similarly, high quality binding like wire-O and perfect bound for booklets and catalogs, correct folding such as accordion and gate for brochures and the finish of the green certified paper all combine to create the final impression.

Our brochures can include options such as perforations or scoring, and we offer a variety of finishes, including aqueous or varnish, and a choice of 4-color process or PMS spot colors on our digital or offset presses. We are happy to discuss these brochure options with our clients in more detail to help arrive at the required finish and to create an overall impression which accurately reflects how you see your business and want others to see it.

Getting all these detail right means the final product can be a valuable asset to a business. We also know that the logistics of distributing material is a job in itself, and we offer an in-house mailing service which cuts down on overall costs, and means your brochures can reach existing and prospective clients looking just as good as they do when they leave our presses. As well as saving you time and money, this service can also cut down on the carbon footprint of your business as literature goes direct.

We also offer on-line brochure printing. If your booklet files are ready to send to press – visit our on-line eco-friendly printing site, PrintingGreen.com. Send your brochure to press instantly.